Squeezed light lasers for current and future gravitational-wave detectors
We have developed and built squeezed light sources for GEO600 and Virgo. We also develop such technology for next-generation gravitational-wave detectors.
The GEO600 squeezer
In 2010 GEO600 was the first gravitational-wave detector to apply squeezed light injection to reduce this quantum noise and to this day GEO600 holds the world record in duration of application and level of the squeezed light.
The squeezed light source was developed and built by our group, and currently the optimal application of squeezed light injection is a topic of ongoing research at GEO600.
GEO600 researchers together with our group have achieved the strongest squeezing ever seen in a gravitational-wave detector: They lowered the quantum background noise by a factor of 2. This corresponds to a squeezing level of 6 dB.
Reaching a squeezing level of 10 dB at GEO600 is assumed feasible. This is also the level of squeezing required for future gravitational-wave detectors such as the Einstein Telescope.
The Virgo squeezer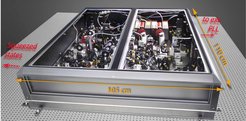 Our research team has developed an advanced squeezed-light source for the gravitational-wave detector Virgo near Pisa and installed it in 2018. The design is based on that of the GEO600 source.
In the third observation run (O3) of the international detector network the squeezed-light source reduces the dominant quantum mechanical detector background noise by about one third. This allows Virgo, for example, to detect gravitational waves from merging neutron stars up to 26% more frequently.
With the squeezed light source we have also observed quantum back action on the 40 kg test masses in the Advanced Virgo gravitational-wave detector.
The use of squeezed light also plays an important role for planned third-generation detectors such as the Einstein Telescope.
Frequency dependent squeezing at TAMA
The current use of squeezed vaccum states cannot mitigate the quantum background noise over the entire frequency range of gravitational-wave detectors. A shot noise reduction at high frequencies results in a radiation pressure noise increase at low frequencies. A quantum noise reduction over a wider frequency range is possible by using more complex squeezing sources, such as reflecting the squeezed vacuum off a Fabry-Perot cavity, known as filter cavity.
The first demonstation of this frequency dependent squeezing was achieved in 2020 at TAMA with a 300 meter long filter cavity. Similar upgrades are planned for the large gravitational-wave detectors.
Publications
First demonstration of 6 dB quantum noise reduction in a kilometer scale gravitational wave observatory. Physical Review Letters
High-efficiency squeezed light generation for gravitational wave detectors. Classical and Quantum Gravity
The squeezed light source for the advanced virgo detector in the observation run O3. Galaxies
Increasing the Astrophysical Reach of the Advanced Virgo Detector via the Application of Squeezed Vacuum States of Light. Physical Review Letters
Quantum Backaction on Kg-Scale Mirrors: Observation of Radiation Pressure Noise in the Advanced Virgo Detector. Physical Review Letters
Frequency-Dependent Squeezed Vacuum Source for Broadband Quantum Noise Reduction in Advanced Gravitational-Wave Detectors. Physical Review Letters