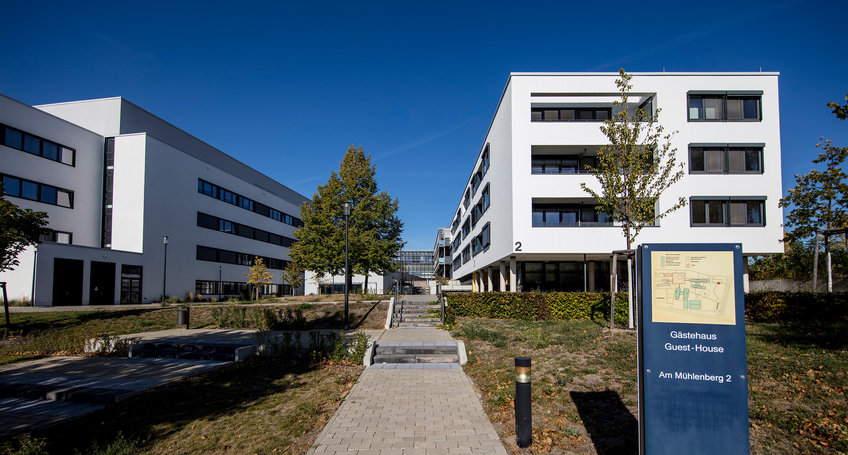 Max Planck Guesthouse (Potsdam)
Address: Am Mühlenberg 2, 14476 Potsdam
To all guests at the institutes we offer rooms in the guesthouse which is located directly on the Max Planck Campus – only a few steps away from main building and canteen. Your stay in our guestrooms should not exceed 3 months. If you wish to book a room or have any questions about your booking, please feel free to contact your department secretary directly:
Brit Holland
Astrophysical and Cosmological Relativity Department
Email: brit.holland@aei.mpg.de
Matthias Blitterdorf
Computational Relativistic Astrophysics Department
Email: matthias.blittersdorf@aei.mpg.de
Anika Rast
Quantum Gravity and Unified Theories Department
Email: anika.rast@aei.mpg.de
Rooms
26 Single rooms, 12 with own bathroom, 4 with balcony, all with a shared kitchen
9 Double rooms, 7 with own bathroom, 3 with balcony, all with a shared kitchen
6 Apartments, with own bathroom, separate bedroom, kitchen unit, 5 with balcony
A common kitchen is available to all guests.
Room rates (as of May 2022)
Single room: 49,22 €/night; 492,20 €/month
Double room: 56,71 €/night; 567,10 €/month
Apartment: 70,62 €/night; 706,20 €/month
All prices including VAT. The monthly price is calculated for a stay more than 10 nights.
Payment is possible by credit-/debit card, in cash or by bank transfer.
General information
Reception address: Am Mühlenberg 1, 14476 Potsdam, central building (open 24/7)
Check-in: from 2 pm, check-out: until 10 am
Free Wi-Fi
2 washing machines and 2 dryers available (extra fee)
Accessible room: 1
Additional beds: 4
Baby beds: 2
On-site parking
Services: Services include cleaning once a week, changing bedlinen and towels (once a week).
Arrival
Arrival is also possible after 6 pm. You can get the key at the reception, located in the central building of the Max Planck Campus, Am Mühlenberg 1, 14476 Potsdam, open 24/7.
Reception: 0049-331-5677814, wache@mpikg.mpg.de
Cancellation fees
In case of a no-show without prior cancellation, cancellation fees will apply:
50% of the room rate when cancelling 2 weeks before arrival date,
80% of the room charge when cancelling 1 day before arrival date,
100% of the room charge because of no show without specific reason.
In case of a no-show through no fault of one's own or force majeure the cancellation fees can be waived.