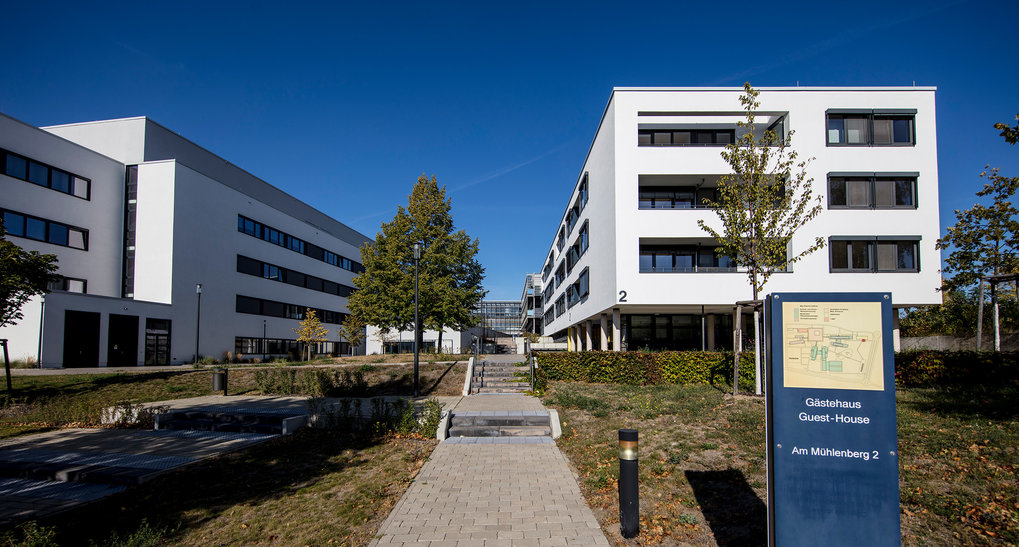 Max Planck Guesthouse (Potsdam)
Address: Am Mühlenberg 2, 14476 Potsdam
You can book a room in the guesthouse which is located directly on the Max Planck Campus – only a few steps away from main building and canteen. Here we offer single/double rooms and apartments to the guests of the Institute. Your stay in our guestrooms should not exceed 3 months. If you wish to book a room or have any questions about your booking, please feel free to contact your department secretary directly:
Brit Holland
Astrophysical and Cosmological Relativity Division
Email: brit.holland@aei.mpg.de
Anika Rast
Quantum Gravity and Unified Theories Division
Email: anika.rast@aei.mpg.de
Matthias Blitterdorf
Computational Relativistic Astrophysics Division
Email: matthias.blittersdorf@aei.mpg.de
General information
The rooms are available from 3 pm on the day of arrival until 11 am on the day of departure. Children beds are available on request. Free Wi-Fi and television is offered in all rooms.
Single rooms: 26; thereof 11 with own bathroom, others with shared bathroom, 4 single rooms with balcony
Double rooms : 9; thereof 3 with own bathroom, 3 double rooms with balcony
Apartments: 6; thereof 4 with balcony
All rooms share one kitchen with 3 upon 12 sections.
Additional beds: 4
Baby beds: 3
accessible room: 1
3 washing machines and 2 dryers available ( extra fee )
Check-In: from 3 pm, Check-Out: until 11 am
Reception address: Am Mühlenberg 1, 14476 Potsdam (open 24h)
On-site parking
Services: Services include cleaning once a week, changing bedlinen and towels (once a week).
Guaranteed booking
Arrival is also possible after 6 pm. We keep your room for the whole night. In case of no-show without a previous cancellation, cancellation fees may be charged: 50% of the room rate when cancelling 2 weeks before arrival date, 80% of the room rate when cancelling 1 day before arrival date, 100% of the room rate in case of no-show without specific reason. In case of no-show through no fault of one's own or force majeure the cancellation fees can be waived.
Arrival
You will get the key at the reception, located in the central building of the Max-Planck-Campus, open 24/7.
Phone: 0049-331-567781
Room rates (net prices)
Single room: 42 €/night, 420 €/month
Double room: 48 €/night, 480 €/month
Apartment: 60 €/night, 600 €/month
All prices without VAT. The monthly price is calculated for a stay longer than 11 days. Payment is possible by credit/debit card, in cash or by bank transfer.