Gravitational Wave Physics and Astronomy Workshop in Hannover
GWPAW 2021 will take place December 14-17 in Hannover, international experts meet to discuss current state of the art
Organized by the Independent Max Planck Research Group "Continuous Gravitational Waves" at the AEI Hannover, the Gravitational Wave Physics and Astronomy Workshop (GWPAW) in 2021 brings together the world's leading experts in an informal setting. From December 14-17, the 170 international participants will discuss the current state of gravitational-wave and multi-messenger astronomy and the future of these research fields. They will meet in a hybrid conference taking place in Hannover and online, featuring 10 keynote talks, more than 50 presentations, and dozens of research posters.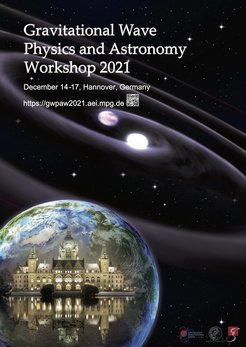 "I am very proud that the Gravitational Wave Physics and Astronomy Workshop 2021 will take place in Hannover. This workshop has been held for almost 30 years and is the place to meet and discuss the most interesting topics in gravitational-wave physics and astronomy," says M. Alessandra Papa, chair of the workshop's scientific organizing committee, and leader of the permanent independent Max Planck Research Group "Continuous Gravitational Waves" at the AEI Hannover, which organized the event.
A broad overview
The workshop will provide a broad overview of current gravitational-wave research and related disciplines in an informal and relaxed atmosphere. During its four days, the attending researchers will meet in 15 sessions to discuss key topics and the state-of-the art of gravitational-wave astronomy and multi-messenger astronomy.
The status of current gravitational-wave detectors on Earth and selected reviews of their recent observations – the large catalogs of 90 signals as well as single signals of interest and their properties – will be covered in several sessions.
Multi-messenger astronomy – the simultaneous observation of these gravitational-wave events with their electromagnetic counterparts – and what we can learn about the cosmic events at their heart is another key topic.
How to optimize the searches for gravitational-wave signals and how to quickly identify possible electromagnetic counterparts for observations with other telescope facilities is another question the workshop participants will discuss.
All gravitational-wave events observed to date came from mergers of compact objects, i.e., neutron stars and black holes. How these binaries were intially formed, is the topic of two workshop sessions.
Other talks will provide a detailed look into our current understanding of neutron stars. These compact remnants from stellar explosions and their matter are still not well understood. Gravitational waves and multi-messenger observations can provide novel ways to probe these objects and their extremely dense matter.
Gravitational waves do not only open new ways to study compact objects, they also provide unique opportunities to tests Einstein's general theory of relativity and probe for physics "beyond Einstein". Moreover, researchers use the ripples in space-time to study large, cosmological structures in our Universe and the early Universe shortly after the Big Bang.
Another set of sessions will be dedicated to future low-frequency gravitational-wave detectors, such as the space-based Laser Interferometer Space Antenna (LISA) and pulsar timing arrays and what their observations will tell us about the population of compact objects.