Current gravitational-wave astronomy
Up-to-date information on gravitational-wave astronomy and expertise at the Max Planck Institute for Gravitational Physics in Hannover and Potsdam.
Next stop: observing run O4
LIGO, Virgo, and KAGRA continue detector preparations for the start of O4. The start is planned for 24 May 2023. In addition, a run duration of 18 calendar months of observing for O4 (as a change from the previous 12-month duration) is planned. This change is motivated by upgrade plans for the O5 observing run. The sensitivity improvement for O5 comes primarily from lower-noise mirror coatings that are still in the development phase, and are not expected to be available by the original O4 end date. The additional observing time will increase the scientific output of O4, while the coating development is being finalized and the test masses required for O5 are being coated. The 18 month observing period may be interleaved with one or two month-scale gaps for maintenance. (information as of January 2023)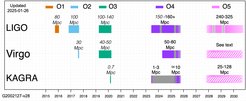 Current detector status
Public alerts for signal candidates
In O3, possible transient gravitational-wave signals (candidates for binary merger signals) identified by the LIGO Scientific and Virgo Collaboration researchers were made public in near real time. Data about the candidate, such as type of signal, sky position and estimated distance were published as part of these "alerts". Professional and amateur astronomers could schedule follow-up observations of gravitational-wave signals based on this information.
For O4, a similar process is planned. With the apps Chirp and Gravitational Wave Events, public alerts can be received on Android and iOS.
Last observing run: O3 (April 2019 - March 2020)
On 1 April 2019, the twin LIGO instruments, the Virgo detector, and the GEO600 instrument began their third observing run "O3". KAGRA joined at the end of the run. The detectors' sensitivities had been further increased in the months before and in previous engineering runs.
In October 2019 after the first half of O3 (called O3a), data taking was interrupted for a full month for maintenance and upgrades at the detectors. The second half of O3 (called O3b) was planned to conclude on 30 April 2020, but was finished already on 27 March 2020 due to the Covid-19 pandemic.
Highlights from O3
LIGO Scientific Collaboration departments, research groups, and experts at AEI
LIGO Scientific Collaboration researchers at the Max Planck Institute for Gravitational Physics in Potsdam and Hannover and at the Leibniz Universität Hannover are leading partners in the international gravitational-wave community.
Other relevant departments, research groups, and experts at AEI
Media materials