November of Science 2021
#knowember at the Albert Einstein Institute features seven online popular science lectures
This year's November will be #knowember for two weeks and provide insights into the university and science location Hannover and Potsdam. The Max Planck Institute for Gravitational Physics (Albert Einstein Institute) in Hannover and Potsdam and the Institute for Gravitational Physics at Leibniz Universität Hannover are taking part and invite you to seven online lectures (four in German, three in English). From the big bang to black holes and neutron stars to tricks for measuring Einstein's gravitational waves. Tune in at your convenience, listen in, and ask your questions. We look forward to seeing you online!
Update (10 November): Due to unexpected events the lecture topic and the lecturer on 12 November have changed.
Talks in English language
Lectures live and online via BigBlueButton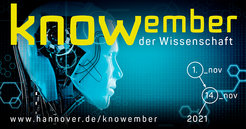 The lectures will take place on the online platform BigBlueButton (also see the link to the FAQ on the right-hand side). It is based on open source software and hosted on servers of the Computing and IT Competence Center of the Max Planck Society at the GWDG.
To participate in the events, no new software needs to be installed on your device. All you need is an Internet connection, a browser and hardware for audio playback.
On November 1, 3, 4, 8, 9, 11, and 12 starting at 19:00 CET the motto will be "Clear the stage for science!" for about one hour. Our lecturers look forward to your virtual visit and your questions. Advance registration is not required.
How do I participate in the online talks?
Open the link to the online room in your browser. The room will be opened approx. 20 minutes before the event starts.
Enter a name in the corresponding field and click "Teilnehmen"
In the window "Wie möchten Sie der Konferenz beitreten?" click on "Nur Zuhören". If you have selected "Mit Mikrofon", please make sure that your microphone is muted.
Wait for a moment... you are ready.
Make yourself comfortable and enjoy the talk! You can ask questions in writing via the public chat (second column from left). If the chat column is not visible, click on "Öffentlicher Chat" in the column on the far left, then the chat column will open.
The lectures are not recorded by the institute. We would like to ask you to refrain from non-private recordings.
All talks and dates
November of Science
The November of Science is a project of the Initiative Wissenschaft, in which all Hanover universities, Fraunhofer ITEM, the Volkswagen Foundation, the Studentenwerk, hannoverimpuls GmbH, and the City of Hanover are involved. The format has been held every two years since 2008. The complete and always up-to-date program of the November of Science 2021 with the AEI lectures and all other events can be found on hannover.de.