Nine new gamma-ray pulsars
Discoveries in Fermi telescope data thanks to method used in gravitational-wave astronomy
Pulsars are the lighthouses of the universe. These compact and fast-rotating neutron stars flash many times per second in the radio or gamma-ray band. Pure gamma-ray pulsars are extremely difficult to find despite their high energy because they radiate very few photons per unit of time. Using an improved analysis algorithm, scientists from the Max Planck Society and international partners now discovered a set of previously unknown gamma-ray pulsars with low luminosity in data from the Fermi satellite. These pulsars had been missed using conventional methods. The number of known gamma-ray pulsars has thus grown to over 100. (The paper will be published in the Astrophysical Journal.)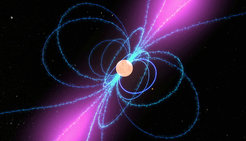 Pulsars are the lighthouses of the universe. These compact and fast-rotating neutron stars flash many times per second in the radio or gamma-ray band. Pure gamma-ray pulsars are extremely difficult to find despite their high energy because they radiate very few photons per unit of time. Using an improved analysis algorithm, scientists from the Max Planck Society and international partners now discovered a set of previously unknown gamma-ray pulsars with low luminosity in data from the Fermi satellite. These pulsars had been missed using conventional methods. The number of known gamma-ray pulsars has thus grown to over 100. (The paper will be published in the Astrophysical Journal.)
Images and multimedia in support of the news conference
Presenter 3: Bruce Allen, director, Max Planck Institute for Gravitational Physics in Hannover, Germany, and of the Einstein@Home project
Visual 9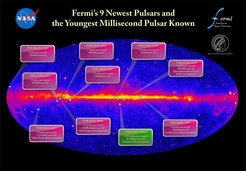 Visual 10
This animation illustrates how analysis of Fermi data reveals new pulsars. Fermi's LAT records the precise time and position of the gamma rays it detects, but to identify a pulsar requires additional information -- its position in the sky, its pulse period, and the way the pulse changes over time. Additionally, even Fermi's sensitive LAT detects few gamma rays from these objects -- as few as one photon per 100,000 rotations. The Hannover team used new methods to execute a so-called blind search, using computers to check many different combinations of position and period against the 8,000 photons Fermi's LAT has collected during its three years in orbit. When photons from the pulses align in time, a new gamma-ray pulsar has been discovered.
https://www.youtube.com/watch?v=YJL_1QzIY2g
Visual 11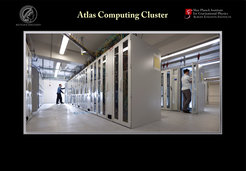 Visual 12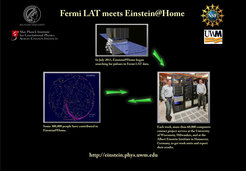 Phase-time diagram and pulse profile for gamma-ray pulsar J2028+3332. Panel 9a shows the pulse phase (rotation angle of the star about its axis) at the arrival time of each photon. The gray-scale intensity represents the photon probability weight. In panel 9b, the upper plot shows the summed probability weights: the pulse profile. The four plots below resolve the pulse profile according to separate energy ranges. For clarity, the horizontal axis shows two pulsar rotations in each diagram.