Research results and animations
2021
Properties of the remnant disk and the dynamical ejecta produced in low-mass black hole-neutron star mergers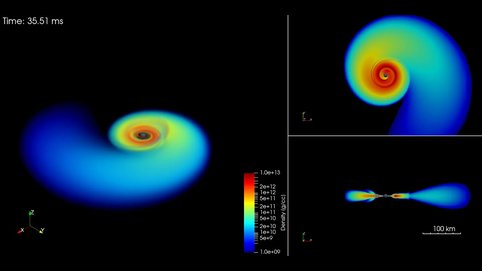 Merger of a low-mass black hole and neutron star leading to a black hole surrounded by an accretion disk
When a black hole (black sphere) and a neutron star (red sphere) merge, matter is ejected and forms an accretion disk surrounding the resulting black hole. The simulation shows the density of the ejected matter with colors ranging from blue (lower density), green, yellow to red (higher density).
Publication:
1.
Properties of the remnant disk and the dynamical ejecta produced in low-mass black hole-neutron star mergers
Physical Review D 103, 043007 (2021)
2020
Mass ejection from disks surrounding a low-mass black hole: Viscous neutrino-radiation hydrodynamics simulation in full general relativity
Viscous evolution of disks for Mdisk = 0.1 M⊙
Rest-mass density in units of g=cm3, temperature (kT) in units of MeV, specific entropy per baryon in units of k, and electron fraction Ye for model K8. The rest-mass density, the value of Ye, and the temperature of the  atmosphere artificially added are ≈10 g=cm3, 0.5, and ≈0.036 MeV=k, respectively.
Publication:
2.
Mass ejection from disks surrounding a low-mass black hole: Viscous neutrino-radiation hydrodynamics simulation in full general relativity
Physical Review D 101, 083029 (2020)