Angela Borchers Pascual
Master Student in the Binary Merger Observations and Numerical Relativity group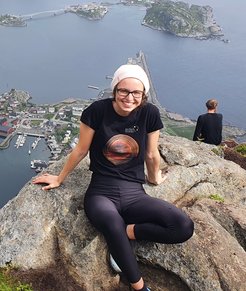 What is your current position at our institute?
I'm a Master Student in the Binary Merger Observations and Numerical Relativity group.
How and when did you choose to do physics?
As a teenager, I used to go to a science event called "Naukas", which was celebrated every year in my home country, and where scientists talked about their research in a very attractive and enjoyable way. Attending those talks influenced me a lot.
What is your academic education?
BSc in Physics, University of the Basque Country
MSc in Physics, Leibniz Universität Hannover (present)
What were your previous academic positions?
Summer Student in the Relativity and Gravitation group at the University of the Balearic Islands
Can you please describe your research?
My master's project is focused on studying black hole kicks, a phenomenon that occurs in merging black hole binaries when they emit anisotropic gravitational radiation. Gravitational waves carry linear momentum away from the system, and this causes the remnant black hole to acquire a characteristic velocity known as recoil or kick. I study how well the kick velocity can be determined from observed gravitational-wave events, and how the recoil can be used to measure the accuracy of current waveform models.