LISA Pathfinder on the way to launch
The satellite is completed
LISA Pathfinder (LPF), the test mission to demonstrate new technologies necessary for the planned gravitational wave observatory eLISA, will be shipped to the spaceport in Kourou on September 3rd, 2015, in preparation for launch. "We have developed completely new technologies to capture the sound of the universe in the future. Now we are eagerly awaiting launch and the first data", says Prof. Karsten Danzmann, director at the AEI and professor at the Leibniz Universität Hannover.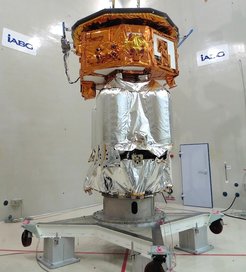 LISA Pathfinder will test novel technologies in space whose function and performance cannot be tested on the ground at all or only in a limited fashion. LPF will pave the way for the gravitational wave observatory eLISA. Other space missions are already benefiting from the new technologies. One example is the laser ranging interferometer used in the earth observation mission Grace Follow-On, scheduled for launch in 2017.
The Max Planck Institute for Gravitational Physics (Albert Einstein Institute/AEI) in Hannover played a leading role in the development and construction of the optical scientific instrumentation for LISA Pathfinder. Joint scientific leadership is held by Prof. Karsten Danzmann and Prof. Stefano Vitale from the University of Trento, Italy.
The highly sensitive scientific payload was integrated into the satellite in the last weeks, followed by last function and environment tests. The propulsion module and the launch vehicle adapter were also installed. Now shipment to ESA spaceport Kourou/French Guayana is imminent. From there, the mission will lift off in late autumn on a Vega launcher.
The LPF scientists are now preparing intensively for LPF mission operations. Once LPF has reached its destination, they will extensively test the highly precise technologies on board for a period of several months while maintaining a constant dialogue with the satellite.
LISA Pathfinder is an ESA mission, with the European space industry under the overall integration responsibility of Airbus DS and research institutions from France, Germany, Italy, the Netherlands, Spain, Switzerland and Great Britain as well as NASA participating.
LISA Pathfinder is funded through the German Aerospace Center (Deutsches Zentrum für Luft- und Raumfahrt; DLR) by the Federal Ministry for Economic Affairs and Energy based on a resolution of the German Bundestag.
Background information after the page break