Embargoed until: September 26, 2023 12:00 CESTThe study on which this press release is based has not yet been published. This article is embargoed and intended to provide advance information to certain media and press representatives only. The URL of this page may not be distributed or shared on the Internet until the embargo has lifted.
Berthold Leibinger Stiftung honors laser researchers from Hannover and Cardiff
First prize for high-precision laser sources in gravitational-wave astronomy, fundamental research, and more
At a ceremony on the evening of September 22, 2023, the Berthold Leibinger Stiftung honored the winners and finalists of this year's Innovation Award. Researchers from Leibniz University Hannover, the Max Planck Institute for Gravitational Physics (Albert Einstein Institute), and Cardiff University receive the 1st prize for their work on "ultra-high precision beam sources not only for basic research". The award includes 50,000 Euros of prize money. This breakthrough exemplifies the work in scientific research that is driven by technological progress and is an example of how today's discoveries are tomorrow's tools, said Eckhard Elsen, member of the award jury, who gave the laudation for the prize.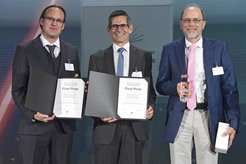 "I am very happy about this recognition of our work! Together with our colleagues we have developed new methods, designed unique laser sources and put them into operation in gravitational-wave detectors," says Benno Willke, group leader at the Albert Einstein Institute and professor at Leibniz University Hannover. "And our journey continues: we need to investigate new ideas today to pave the way for future observatories like the Einstein Telescope using even better laser sources."
Henning Vahlbruch, head of the squeezed light group at the Institute for Gravitational Physics at Leibniz University Hannover adds: "It is great to see how our innovative developments in the field of squeezed states of light are now part of the standard equipment of gravitational-wave detectors all over the world. They make these detectors even more sensitive and also have new applications in completely different fields."
Willke and Vahlbruch receive the award together with Harmut Grote, professor at Cardiff University, who was the lead scientist at the German-British gravitational-wave detector GEO600 near Hannover until 2017. He is honored for his work on integrating squeezed light at GEO600.
Innovative laser physics for gravitational-wave astronomy
The first direct detection of gravitational waves in September 2015 ushered in a new era of astronomy, giving humanity a glimpse of a previously hidden facet of the universe. Since then, gravitational waves from merging black holes and neutron stars have been observed more than 90 times. In the current, fourth joint observation run "O4", the gravitational-wave detectors have been detecting a new signal from the depths of space every two to three days since the end of May 2023.
The working groups of the award-winning research team play an important role in this rapid progress. They are driving innovative developments in laser physics for gravitational-wave detectors: the extremely precise stabilization of high-power laser sources at different wavelengths and beam shapes, the generation and control of squeezed coherent vacuum states, and novel techniques for the application of squeezed light.
On the path to the Einstein Telescope
Researchers are also leading in the development and design of the Einstein Telescope, Europe's third-generation gravitational-wave detector. But the applications of these new technologies go far beyond those in current and future gravitational-wave detectors. They also provide innovations in quantum communications and for light-based quantum computing.
The Berthold Leibinger Innovation Award
Every two years, the Berthold Leibinger Innovationspreis honors innovations in laser technology, whether beam source or application, result of a research institution or industrial research. Innovations can be submitted as applications or nominations. It is open to individuals and to groups from all over the world. From all applications and nominations, the jury selects eight finalists. These will travel to the jury meeting at the invitation of the Berthold Leibinger Stiftung to present their work in person. Finalists and prize winners receive their awards at the prize-giving ceremony. The 1st prize is endowed with 50,000 Euros, the 2nd prize with 30,000 Euros and the 3rd prize with 20,000 Euros.