Juliane von Wrangel
PhD Student in the 10-meter prototype group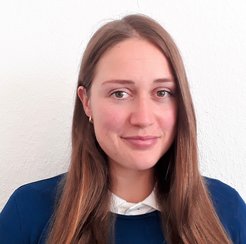 What is your current position at our institute?
I'm a PhD student in the 10-meter prototype group.
How and when did you choose to do physics?
When I was in fourth grade, I sat at the kitchen table with my two older brothers. They were talking about the weaknesses of Bohr's model of atoms. I had no idea what atoms were, but I really wanted to join the discussion. When my brothers then explained to me how matter is built, I thought "wow, that's cool, I want to learn everything about these atoms and particles".
What is your academic education?
2012 -2016: University of Münster (BSc in Physics)
2015: State University of New York
2016-2019: Leibniz Universität Hannover (MSc in Physics)
since 2019: Max Planck Institute for Gravitational Physics Hannover (PhD studies)
Please describe your research in general terms.
When we measure light, we cannot do so with arbitrary precision. There is not only technical noise interfering with our measurements, but also a fundamental, physical limit, that we cannot surpass with classical (non-quantum) techniques. This is called the standard quantum limit and our group builds and operates a 10x10 meter long measurement device called the AEI 10-meter prototype to investigate this limit.
Please let us know why you chose the Max Planck Institute for Gravitational Physics for your research.
Being a PhD student in the Max Planck Society provides many opportunities. Our programm involves lecture weeks and workshops, we learn about project management, poster presentation and more. We are supported in travelling to conferences and networking with other scientists. As a scientist in the gravitational-wave community, we contribute to the research of astronomical events while working in international collaborations. I have the opportunity to work in a lab of a partner institute in Glasgow regularly, as they work on similar projects as we do.
What would you recommend to a young woman wanting to start a career in physics?
In science, and especially in physics, you learn one thing above all: that you know very little. But that's what we build knowledge from: step by step, we search our way forward, navigate through the darkness and sometimes find ourselves in a dead end. That can sometimes be upsetting, especially since people hardly talk about it. Yet, it is completely normal and it happens to everyone. Be brave, be patient and have faith in yourself, even if you sometimes feel like you are standing still.